Our Staff's Commitment to You
Everyone at Trahan Funeral Chapel is committed to providing support, compassion, information, and direction as needed to all members of our community, their families, and friends who are dealing with loss and grief.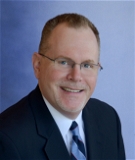 Bradley W. Monaghan
Owner & Funeral Director
brad@trahanfc.com
Brad was born and raised in Bay City and graduated from All Saints High School in the Class of 1988. While a junior in high school, Brad's first experience with funeral service was at the Trahan Funeral Chapel, where he discovered a strong desire to become a funeral director. He attended Delta College and went on to graduate from the Worsham College of Mortuary Science in Chicago in 1994. After working in Chicago, Saginaw and Holland, he has worked in Bay City since 1998 where he has established many good relationships with those families who seek his advice. Today, Brad's high standard of service continues as the owner and president of Trahan Funeral Chapel. He will always go above and beyond to help any family he serves while consistently striving to meet their individualized needs as they adjust to the loss of their loved one.
Brad is married to Kristin and they have three children. He is a sports fan and enjoys driving and maintaining his 1980 Corvette. Currently, an active member of St. Catherine of Siena Parish, Brad has served on the Parish Council. He is a member of Knights of Columbus Council #414, Bay City Morning Rotary, Elks Lodge #88, and Bay City Lions Club where he sits on the Sight and Hearing Board.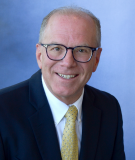 Steven H. Spaulding
Funeral Director
steve@trahanfc.com
Steve was born and raised in Essexville and graduated from Garber High School Class of 1978. He attended Delta College and received his Bachelors of Science Degree in Packaging from Michigan State University in 1983. After working at both Kraft Foods (Post Cereal Division) and Pillsbury for several years, Steve explored funeral service with the Trahan Funeral Chapel. Upon seeing all aspects, he knew that he wanted to dedicate his life to others and pursue his true calling to become a funeral director. He attended Wayne State University where he received his Bachelors in Mortuary Science in 1996. For the past 20 years, he has been one of the finest funeral directors in the Flint area. In 2016 Steve returned to his hometown to join the staff of the Trahan Funeral Chapel. He has a reputation of going out of his way to serve those families that call upon him.
He is a member of St. Jude Thaddeus Parish in Essexville where he serves on the Parish Council, and the Saginaw Bay Yacht Club. Steve enjoys boating on the great lakes, downhill skiing, watching college and pro football and spending time with his friends and family.